Current clients:  If you have been to PPA in the last 3 years please login in as a CURRENT CUSTOMER.  Please Do NOT enter as New Customer as this will create duplicates in the system.  If you are not sure, try your full email address; if it doesn't find you, please check with us to ensure we have your correct email address.
Online payment option:  clients have asked about how they can pay online.  To do this, please save your card to your account Gingr.  These cards are ONLY used with advanced consent of the client.  Upon requesting a class reservation, the card will be used to process that request.  It will NOT be used for anything else without client consent.  It may be used anytime you check out from daycare, boarding, grooming, or private training if you would like us to.  This software has fully encrypted security to prevent your information from being hacked.
To make a reservation please click the button below and follow the on screen instructions.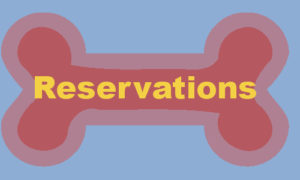 Boarding, Daycare, Grooming, and Private Training reservations may be paid upon completion.
Class reservations must be paid for upon reservation to hold the spot in the class.
You may also email your updated vaccination records to pawsitivepaws@records.gingrapp.com and it will automatically go to your account!